Deutscher IT-Sicherheitspreis 2020 open for submissions
Register until January 9, 2020!
The Deutscher IT-Sicherheitspreis of the Horst Görtz Stiftung will be awarded for the 8th time in 2020. With 200.000 EURO in total, it is the largest monetary award for cybersecurity and privacy in Germany. Registration is possible as of now. The donors are looking for innovation which has a high potential for commercial exploitation and proves how cybersecurity made in Germany can have an impact on the market.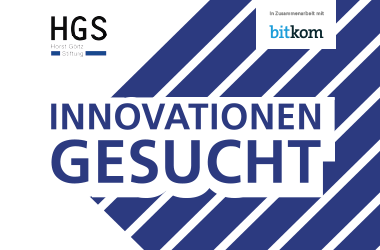 You have an innovative project or idea in the area of cybersecurity and privacy? You think that your solution has a real chance in the market? Then register as a team or individual until January 9, 2020 until 1 PM to receive the submission documents. Submissions will be evaluated by a jury of renowned experts in a two-stage process. Please note that it is mandatory for the person in charge to be affiliated with an organization that is based in Germany or, in case of individuals, to hold the German citizenship. Start-ups are explicitly encouraged to submit their ideas for innovation.
It is the intention of the donor, that winners invest the prize money for the further development and bringing to market maturity of their concept or solution.
In the 8th edition, the award ceremony for the Deutscher IT-Sicherheitspreis will be supported by Germany's digital association Bitkom (Bundesverband Informationswirtschaft, Telekommunikation und neue Medien e.V.) for the first time. The event will be realised in cooperation with the Fraunhofer Institute for Secure Information ­Technology SIT und the National Research Center for Applied Cyber­security ATHENE.
For more details on the award, submission process and terms & conditions please go to: www.deutscher-it-sicherheitspreis.de.
show all news