ATHENE Startup Award UP23@it-sa finalists in the spotlight: enclaive
The startup enclaive is one of the five finalists in the race for this year's ATHENE Startup Award UP23@it-sa. We met up with the startup, which aims to make confidential computing even more secure, for an interview.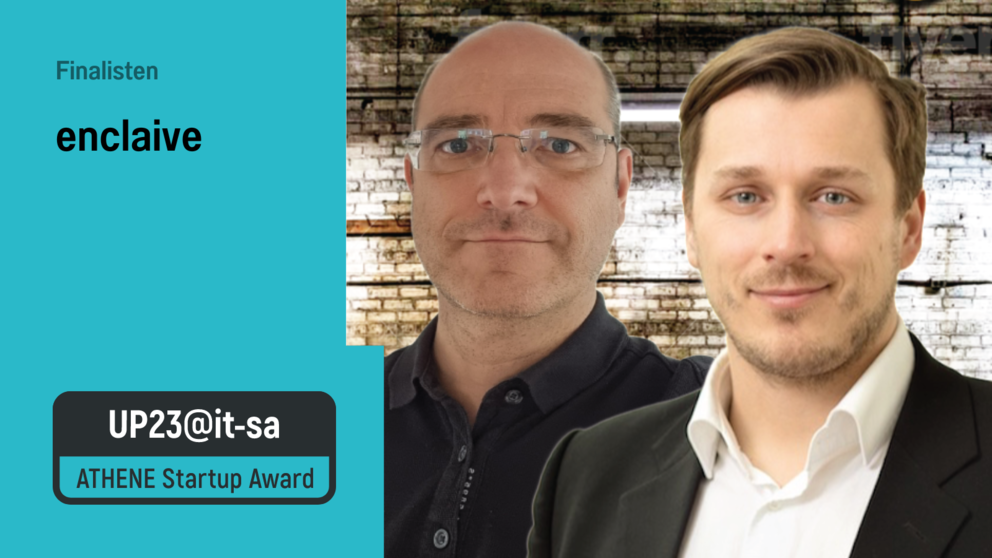 Your startup in one sentence?
We're making the Cloud the safest place for digital businesses providing the Confidential Multi-Cloud Platform.
How did your business idea come about?
Sebastian and Andreas, both on separate paths at the time, were looking for a solution to a decades-old problem: "How do I process data so that it remains securely encrypted against access by unauthorised third parties during processing?"
Sebastian has faced the challenge from the technological research side, which also manifests itself in his professorship for cryptography in Flensburg. Andreas has approached the topic from the business development side to form methods and models that are also easily and commercially implementable by users. Andreas and Sebastian met during Corona and have been walking the path together ever since.
With the possibilities offered by current server technologies from Intel and AMD, the business opportunity arose to create a platform that solves the problem. It allows users to run all kinds of applications where they can benefit most, without changing code and processes. This accelerates innovation with and in the cloud, without being technologically constrained by regulations.
In 2021, they validated the business options in many conversations with potential users and partners. Building on this, in January 2022 they launched enclaive.
Who benefits from your product/solution and why?
The enclaive solution benefits all companies as well as public institutions that want to implement their digitalisation quickly, securely and without vendor lock-in in a secure cloud ecosystem.
What are your next steps?
Expansion of the supported cloud ecosystem
Strengthen communication around the product
Build a sales structure - sell, sell, sell
What have been the biggest successes and hurdles/low points so far and why you are convinced that exactly you will be successful?
Our greatest successes were the customer projects with three renowned companies in Germany. Our lowest point is certainly that it came much later than planned and we had to take investors on board earlier than planned.
We are convinced of this. The cloud of the future will be 3D encrypted and Confidential. As a team, with enclaive we offer users of all sizes and industries the possibility to implement digital processes reliably, securely and economically where it has the greatest benefit, without horizontal or vertical lock-in, and to do so quickly and with existing tools.
Why did you apply for the ATHENE Startup Award UP23@it-sa?
Working with Athene staff is always stimulating and insightful and of course Startup Competitions are fun.
The contact person for the ATHENE Startup Award UP23@it-sa is Lena Kress. If you have any questions or suggestions, please feel free to contact her at any time.
show all news