Darmstadt becomes "Digitale Stadt"
Darmstadt is the winner of the Bitkom-Competition "Digitale Stadt". Its inter­nationally renowned research in cybersecurity, which has been established for years, has contributed to this success.
The winner of the Bitkom-competition "Digitale Stadt" was announced yesterday by the Bun­des­wirt­schafts­mi­nis­ter­in Brigitte Zypries at the Digital-Summit in Walldorf. The Lord Mayor of Darmstadt, Jochen Partsch accepted the certificate. He was accompanied by Prof. Michael Waidner, CRISP-speaker and Chief Digital Officer of the city of Darmstadt as well as further supporters inter alia IHK und HEAG Holding AG.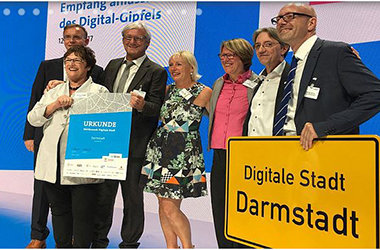 - further information in German only -
"Die Bewerbung von Darmstadt hat die Jury vor allem aufgrund ihrer ausgewogenen Einbeziehung der verschiedenen Themenbereiche und Facetten einer digitalen Stadt überzeugt. Die bereichsübergreifende Vernetzung aller Sektoren mit dem Fokus auf hochprofessionelle Cyber-Sicherheit ist der Schlüssel für eine erfolgreiche Digitale Stadt Darmstadt", sagte Bitkom-Hauptgeschäftsführer Rohleder. Ober­bürger­meister Jochen Partsch zeigte sich begeistert: "Diese Auszeichnung ist keine Bürde, sondern eine Ehre". Darmstadt setzte sich in der Endrunde gegen die Städte Heidelberg, Wolfsburg, Paderborn und Kaiserslautern durch.
mehr In­for­ma­tio­nen auf der Webseite der Stadt Darmstadt

Webseite digitalstadt-darmstadt.de
show all news