NeSPA student project receives award
The team from the StartUpSecure environment took third place in the TU Ideas Competition in the category "Students".
In the category "Students" NeSPA was awarded with the third place in this year's TU ideas competition. In the project, a password manager generates an individual, secure password from a master password and a purpose of use, thereby dispensing with password storage and synchronisation between the respective end devices. The prize is endowed with 1,000 euros and was awarded during the Startup & Innovation Day 2019. First and third place went to the WriteForMe team and Kaipara AdVrenture.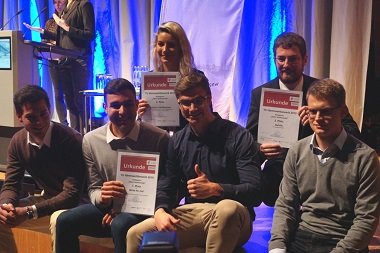 Nowadays, all common Internet browsers offer the possibility to save your own passwords. Experts have long advised that passwords should not be entrusted to large corporations, but rather to so-called password managers. Password managers not only store passwords on their own server, but also generate them. In this way, users can access passwords at any time without having to remember long combinations of numbers and letters. The NeSPA project now goes one step further and develops a password manager that completely dispenses with the need to store or synchronise between different devices. In order to guarantee a secure output of passwords, current algorithms and techniques are used for password generation.
The idea for the NeSPA project was born during the IT internship IT (Security) StartUp: From Idea to Implementation at the TU Darmstadt under the direction of Prof. Dr. Peter Buxmann, Department of Business Informatics. The internship introduces the fundamental aspects of digital business model development and provides a comprehensive overview of the opportunities and risks of founding a start-up in the field of IT security.
show all news