Five cybersecurity start-ups in the final of the ATHENE Startup Award UP23@it-sa
In the race for the ATHENE Startup Award UP23@it-sa, five companies are heading for the home stretch: Enclaive, Quantum Optics Jena, KeeQuant, Mondoo and ZenAdmin have been selected by the expert jury for the final pitch event. The pitch for the coveted prize as the best cybersecurity start-up from the DACH region will take place on 11 October at the it-sa Expo&Congress in Nuremberg.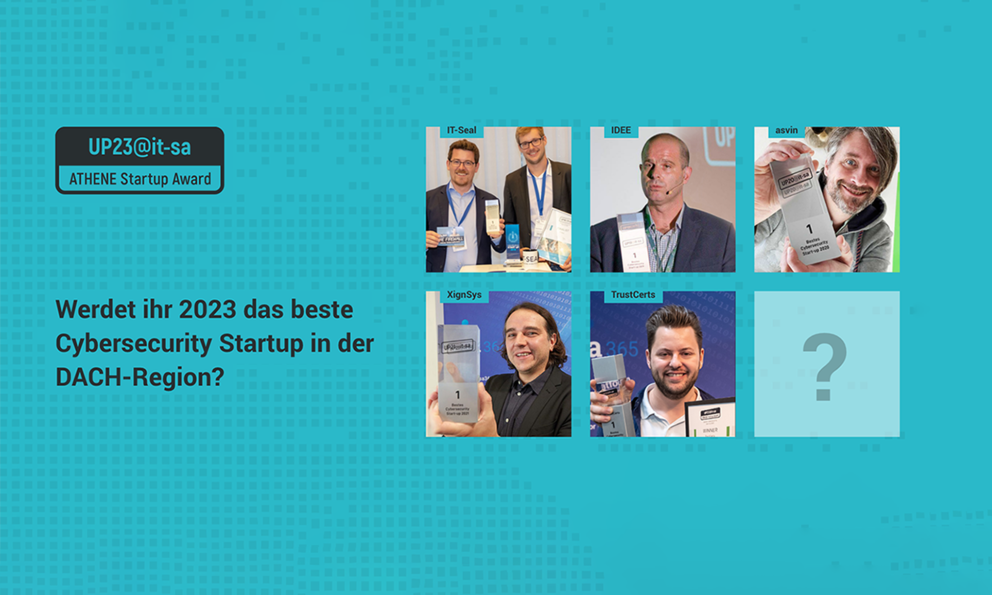 The winner as well as the second and third-placed companies can look forward to attractive prizes with a total value of around 12,000 euros. These include prize money of 5,000, 2,500 and 1,250 euros provided by the sponsors Deutsche Telekom Security, Kaspersky and Infinigate.
These start-ups are in the final for the ATHENE UP23@it-sa Award:
enclaive
Confidential computing protects data even during processing in any cloud environment. Hardware-assisted cryptography isolates containerised applications from running on the same physical platform. Enclaive's enclavation technology thus ensures the highest level of application security and data protection.
Quantum Optics Jena
Quantum computers will challenge some current mathematically based encryption technologies. Quantum Optics Jena is bringing quantum technology to bear on this particular challenge. The company develops quantum key distribution (QKD) systems based on entangled photons.
KEEQuant
Products from KEEQuant enable users to generate cryptographic key pairs within a fibre optic network and place control of the keys in the hands of the network operator. To do this, KeeQuant exploits the potential of photonic ICs. QKD should thus reach the broad market.
Mondoo
Mondoo automates the search for vulnerabilities and policy violations - in cloud environments, VMs, Kubernetes workloads and containers. All layers of the application infrastructure are protected and exploits are effectively prevented.
ZenAdmin
Compliance requires knowledge, structure and processes. ZenAdmin supports the implementation of key compliance standards for common rule sets, helping to reduce the risk of security incidents and making organisations fit for the relevant certification.
More information about the ATHENE Startup Award UP23@it-sa: https://www.itsa365.de/actions-events/events/up-award.
If you have any questions, please contact Lena Kress, Tel.: +49 6151 869-205, e-mail: lena.kress @athene-center.de.
show all news