Using patient data securely
ATHENE at DMEA at the Fraunhofer joint booth in hall 2.2, booth D107
Digitization in healthcare offers the opportunity for better patient care. With the push by the German Federal Ministry of Health to make electronic patient records (ePA) mandatory for everyone from the end of 2024, the discussion about the security of sensitive health data is gaining new momentum. Many patients are concerned that their data could fall into the wrong hands. In ATHENE, scientists at Fraunhofer IGD are pursuing the goal of advancing digitization in healthcare by improving safeguards for data use. They will provide insights into the current state of research at DMEA from April 25 to 27, 2023 at the Fraunhofer joint booth in Hall 2.2, Booth D107.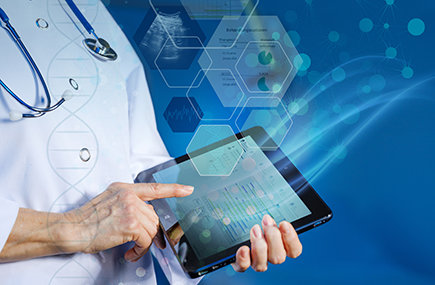 © Fraunhofer IGD
Currently, patient data such as MRI scans, laboratory results or therapy progress are distributed among different physicians and clinics. This is set to change fundamentally in the coming years. "If data sources are increasingly networked, this offers enormous potential for improving the quality of patient care and avoiding unnecessary duplicate examinations," says Prof. Jörn Kohlhammer, ATHENE scientist at Fraunhofer IGD. At the same time, however, the protection of this data and the issue of data privacy are increasingly coming into focus.
Data security during transmission, storage and long-term use.
Prof. Kohlhammer and a team from Fraunhofer IGD and Fraunhofer SIT are therefore addressing three key challenges: In addition to their secure transmission, the collected data, when stored in a cloud solution, for example, must be protected from access by unauthorized persons. Prof. Kohlhammer and his team are also looking into the question of how data can be secured in the long term when it is only available digitally and no longer on paper. As head of the Information Visualization and Visual Analytics research area, he is particularly concerned with the visual support of this data evaluation for medical professionals and patients.
Reducing complexity with visualization
"Patients have the feeling that they are losing control over their data in the course of digitization," explains Prof. Kohlhammer. That's why he's not surprised that less than one percent of people with statutory health insurance currently use the ePA. On the other hand, doctors are also concerned that they will not be able to meet their complex legal obligations regarding data protection.
In Fraunhofer IGD's view, the solution is a targeted visualization of data protection information, consent forms, and information about what data is available to whom and how it may be used. "The simpler and more comprehensible these are, the higher the acceptance of digitization in the healthcare sector will be overall," says Prof. Kohlhammer confidently. The ePA is just the first step toward individualized medicine, which could bring about lasting changes in the healthcare system through artificial intelligence.
Digital twin connects all health information
A current Fraunhofer project in this context is MeDiTwin, the digital twin in healthcare. This connects all of a patient's health information with each other and enables the comparison of parameters from population studies and data on specific clinical pictures such as diagnostics, course of disease, medication or therapies of other affected persons. The result is a holistic, digital patient model that not only makes all important data available to healthcare professionals at a glance, but also provides comprehensive, data-driven decision support at the same time.
"Strict attention to security aspects is essential in projects like MeDiTwin," says Prof. Kohlhammer. ATHENE is complying with this in the area of health data with this project. This is also important when considering the further development of data infrastructures. In addition, the protection of data must also have top priority in the exchange between institutions.
To all exhibits of the Fraunhofer IGD at the DMEA
To the press release of Fraunhofer IGD
show all news