Start of the application phase for ATHENE Startup Award UP23@it-sa
From July 1 to 31, 2023, startups from the DACH region can apply for the ATHENE Startup Award UP23@it-sa. Startups from Germany, Austria and Switzerland that deal with IT security or data protection are eligible to participate. The online application is possible at: www.itsa365.de/up-award.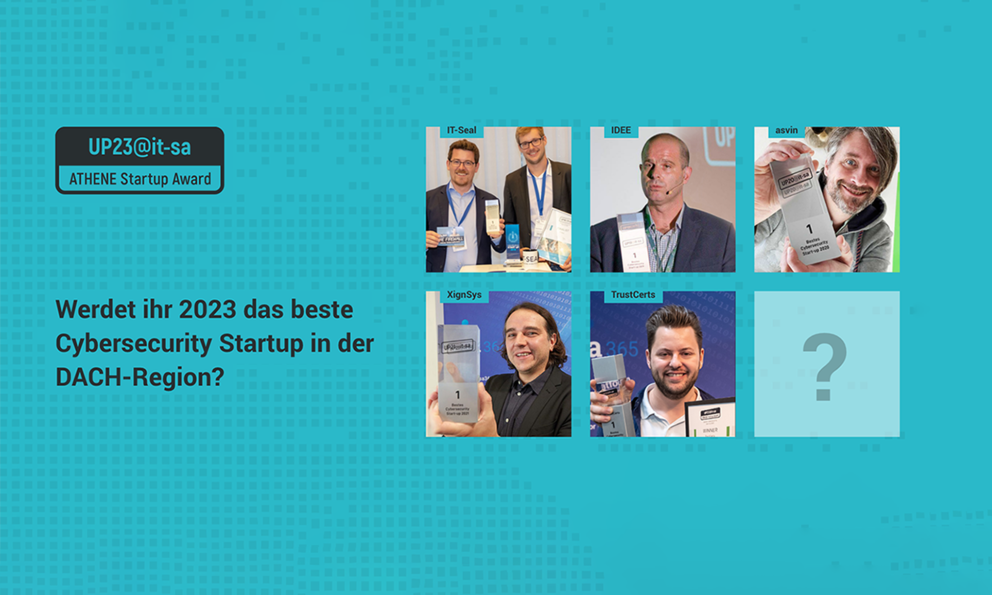 The winner of the ATHENE Startup Award UP23@it-sa will receive special conditions for participation in the Startup Area of it-sa Expo@Congress 2024, a Company&Product Package for presentation on the online dialog platform it-sa 365 worth around 1,000 euros and membership in the IT Security Cluster. In addition, the award is endowed by the sponsors with the following prize money for the first to third place winners:
1st place: 5,000 euros (sponsor: Deutsche Telekom Security)
2nd place: 2,500 euros (Sponsor: Kaspersky Germany)
3rd place: 1,250 euros (sponsor: Infinigate)
Five companies nominated by the jury can already count themselves among the winners before the awards ceremony takes place at it-sa Expo&Congress on October 11: As part of the it-sa Digital Preview Day, the online trade show preview on the it-sa 365 dialog platform, they will have the opportunity to introduce themselves to the trade audience even before the trade show.
More information about the ATHENE Startup Award UP23@it-sa: https://www.itsa365.de/actions-events/events/up-award and in our press release.
If you have any questions, please contact Lena Kress, Tel.: +49 6151 869-205, e-mail: lena.kress @athene-center.de.
show all news