Paper accepted
Successful submissions at ESORICS 2020
Various scientific papers by ATHENE researchers of the TU Darmstadt and the Fraunhofer SIT have been accepted at the 25th European Symposium on Research in Computer Security (ESORICS) 2020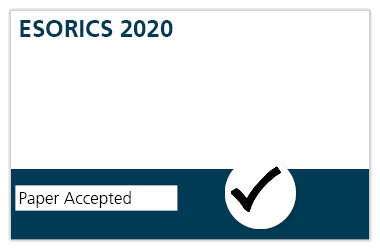 As early as in 1990, ESORICS became a European forum encouraging informational exchange between researchers of the cybersecurity field as well as similar departments. Today, the symposium is considered one of the most important European conferences in the field of IT security.
The following papers were accepted:
LegIoT: Ledgered Trust Management Platform for IoT
Autoren: Jens Neureither, Alexandra Dmitrienko, David Koisser, Ferdinand Brasser, Ahmad-Reza Sadeghi
Linear-complexity private function evaluation is practical
Autoren: Marco Holz, Ágnes Kiss, Deevashwer Rathee, Thomas Schneider
Securing DNSSEC Keys via Threshold ECDSA From Generic MPC
Autoren: Anders Dalskov, Marcel Keller, Claudio Orlandi, Kris Shrishak, Haya Shulman
ESORICS 2020 takes place as a digital event from 14 to 18 September 2020.
show all news