Fragile protection of our communications via submarine cables
ATHENE researchers study states' vulnerability to submarine cable failures
Today, we take it for granted that we can call up a website, stream a movie or be active in social networks within seconds. Many people are often unaware that the data transfer takes place via thousands of kilometers of cable laid at the bottom of the ocean. Today, around 98 percent of international Internet traffic is handled via undersea communication cables. Coastal and island states are highly dependent on this physical infrastructure to provide Internet connections. However, although an annual average of about 100 submarine cable failures of human or natural origin occur, there is currently no global analysis that assesses the vulnerability of individual states to failures on a global scale.
ATHENE scientists Jonas Franken, Thomas Reinhold and Prof. Christian Reuter from the Chair of Science and Technology for Peace and Security (PEASEC) at TU Darmstadt have tackled this issue.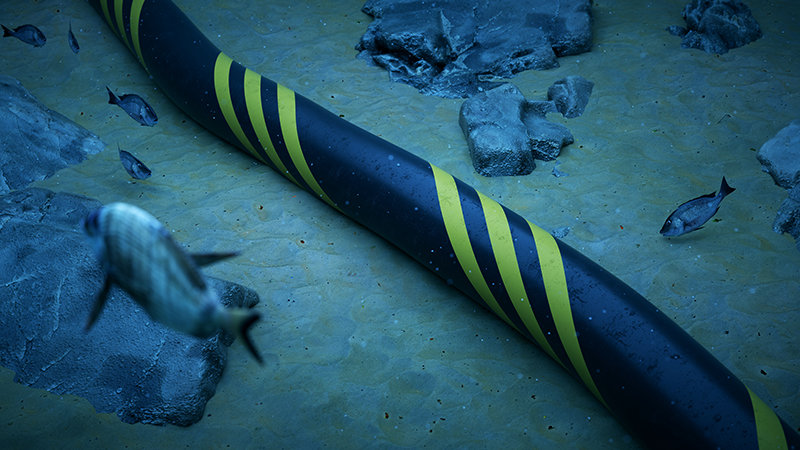 Further information in German.
In ihrer jetzt im International Journal of Critical Infrastructure Protection (IJCIP) erschienen Studie "The Digital Divide in State Vulnerability to Submarine Communications Cable Failure" beschreiben sie die Anfälligkeit einzelner Staaten für Ausfälle unterseeischer Kommunikationskabel und bewerten diese in einem globalen Vergleich.
Als Ergebnis dieser Studie werden 15 hochgradig gefährdete Staaten und Überseegebiete sowie weitere 28 Gebiete identifiziert, die als teilweise gefährdet eingestuft werden. "Unsere Ergebnisse können dazu beitragen, die Notwendigkeit präventiver Schutz­maß­nahmen für kritische Telekommunikationsinfrastrukturen in Staaten und Territorien mit hoher und mittlerer Verwundbarkeit besser einschätzen zu können", so Thomas Reinhold.
Die Erkenntnisse der ATHENE-Wissenschaftler flossen in eine vom Europäischen Parlament in Auftrag gegebenen Studie über Sicherheitsbedrohungen für unterseeische Kommunikationskabel und -infrastrukturen ein, die ebenfalls jüngst veröffentlicht wurde. Gemeinsam mit Wissenschaftlern der Universität Kopenhagen, Dänemark und der Sciences Po Paris, Frankreich schaute sich ATHENE-Forscher Johans Franken die Sensibilisierungs-, Bereitschafts- und Reaktionsmechanismen der Unterseekabel auf EU-Ebene als auch auf Ebene der Mitgliedstaaten genauer an.
In Ihrer Arbeit geben die Wissenschaftler einen systematischen Überblick über die aktuellen Sicherheitsbedrohungen sowie über die Akteure, die diese Bedrohungen verursachen. Auf der Grundlage von Berichten und Expertenbeiträgen nehmen sie eine Bestandsaufnahme der derzeitigen Sensibilisierungs-, Bereitschafts- und Reaktionsmechanismen sowohl auf EU-Ebene als auch auf Ebene der Mitgliedstaaten vor. In ihren Empfehlungen zeigen sie auf, wie die Widerstandsfähigkeit des Kabelnetzes verbessert werden kann. Die Vorschläge stützen sich auf die Notwendigkeit, das EU-weite Bewusstsein zu schärfen, die Koordination zu verbessern und Informationen zwischen den EU-Institutionen und den Mitgliedstaaten auszutauschen. Darüber hinaus sollten die Überwachungskapazitäten ausgebaut, die Reaktions- und Reparaturmechanismen gestärkt und das Thema in das außenpolitische Handeln einbezogen werden, so die Empfehlung der Wissenschaftler.
Nicht zuletzt vor dem Hintergrund der russischen Angriffe auf Ziele im Schwarzen Meer im derzeitigen Krieg in der Ukraine erfährt die Verwundbarkeit der maritimen Infrastrukturen eine wachsende öffentliche und politische Aufmerksamkeit.
Weitere Informationen
Studie The Digital Divide in State Vulnerability to Submarine Communications Cable Failur",
erschienen im International Journal of Critical Infrastructure Protection (IJCIP)
Autoren: Jonas Franken, Thomas Reinhold, Lilian Reichert, Christian Reuter (2022)
Link zur Studie
Studie Security threats to undersea communications cables and infrastructure – consequences for the E"
Autoren: Christian Bueger (Universität Kopenhagen), Tobias Liebetrau (Sciences Po Paris), Jonas Franken (TU Darmstadt
Download über die Think-Tank-Seite des Europäischen Parlaments: https://www.europarl.europa.eu/thinktank/en/document/EXPO_IDA(2022)702557
Bericht auf der Seite des Lehrstuhls für Wissenschaft und Technik für Frieden und Sicherheit (PEASEC): https://peasec.de/2022/ijcip-studie-unterseekabel/
show all news