Premiere for Fraunhofer CyberStar Award
Awards for outstanding academic performance by Israeli students in cybersecurity
The Fraunhofer CyberStar Award (FCSA) was presented for the first time this year, honoring outstanding academic theses in applied cybersecurity from Israel. Prize winners are Dr. Eyal Ronen from Tel Aviv University and Anatoly Shusterman from Ben Gurion University. The award ceremony took place as part of the virtually German-Israeli Cyber Conference, in the presence of Yigal Unna, Director General of the Israeli National Cyber Directorate, Arne Schönbohm, President of the Federal Office for Information Security BSI, and numerous other experts.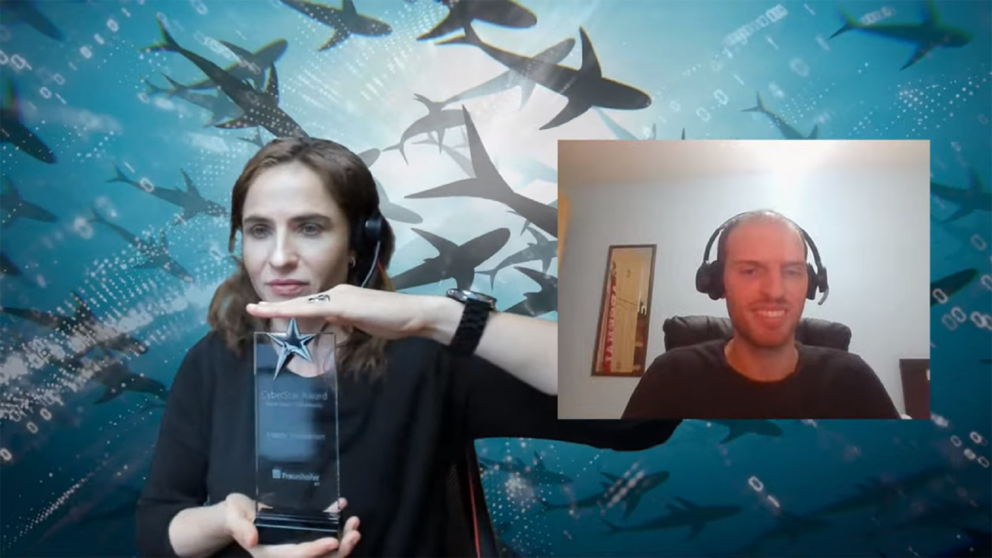 The conference was opened by Susanne Wasum-Rainer, the German ambassador in Tel Aviv, and Jeremy Nissim Issacharoff, the Israeli ambassador in Berlin. The conference was chaired by Dr. Haya Shulman.
The Fraunhofer CyberStar Award for the best PhD thesis went to Dr. Eyal Ronen, who deals with the security of IoT devices in his dissertation. For his spectacular attack on the infrastructure of a building, he flew into the office building with a drone to which a transmitter was attached and let the office lighting flash the SOS symbol. The doctoral supervisor is the Israeli cybersecurity expert Prof. Adi Shamir, one of the inventors of RSA encryption. Eyal Ronen is currently a researcher at Tel Aviv University and specializes in applied cryptography.
The Fraunhofer CyberStar Award for the best master's thesis went to Anatoly Shusterman. In his work, he described an attack that exploits a security gap in the processor cache and makes it possible to fingerprint the surfing behavior of Internet users - even if they use anonymizing or privacy-friendly surfing techniques such as private browser tabs, VPN or the TOR browser. Anatoly Shusterman currently works as Data at Intel Corporation
Scientist and is writing his dissertation at Ben Gurion University in Beer Sheva.

The prize is awarded by the Fraunhofer Institute for Secure Information Technology SIT in Darmstadt as part of its efforts to promote cooperation in applied cybersecurity between Israel and Germany. Associated with the Fraunhofer CyberStar Award is a prize of 5000 US dollars for the best dissertation or 1000 US dollars for the best master's thesis, as well as the opportunity to speak at the event. The conference was organized by Fraunhofer SIT in cooperation with the Hebrew University of Jerusalem in Israel (HUJI) and the Embassy of the State of Israel in Berlin, and supported by the National Research Center for Applied Cybersecurity ATHENE in Darmstadt.
Quote
"The award recognizes the extraordinary achievements of the young scientists and at the same time enables them to discuss their work with security experts from business, research and administration," says Prof. Michael Waidner, head of Fraunhofer SIT and the National Research Center for applied cybersecurity ATHENE.
Informations about CyberStar Award
show all news