TrustCerts is winner of the ATHENE Startup Award UP22@it-sa
The winner of this year's ATHENE Startup Award UP22@it-sa has been determined: The startup TrustCerts was able to prevail against nine other startups in yesterday's pitch and may take home the coveted trophy. The team convinced both the jury and the audience with their business idea of signing, creating and managing documents and proofs in a forgery-proof way, while ensuring neutral verifiability with blockchain technology.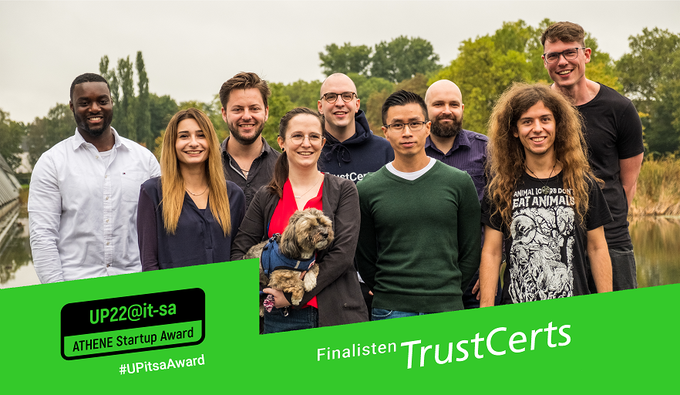 Further information in German.
Bereits zum 5. Mal wurde in diesem Jahr das beste Cyber­security Startup der DACH-Region gekürt. Bewerben konnten sich alle Startups, die Produkte oder Services aus den Bereichen IT-Sicherheit oder Datenschutz anbieten und den Firmensitz in Deutschland, Österreich oder der Schweiz haben. Gefragt waren vor allem Innovationskraft, Team-Spirit und natürlich ein überzeugendes Geschäftsmodell. Eine Fachjury wählte im Juli zehn Bewerber aus, die sich dem Publikumsentscheid stellen. Die 10 Finalisten stellten sich ab September dem Publikumsentscheid – im Online-Prevoting und im gestrigen Pitch. Dabei galt es, zunächst Expert*innen und mögliche Investor*innen mit einem Videopitch zu überzeugen. Durchsetzen konnte sich am Ende das Startup TrustCerts aus Gelsenkirchen.
Doch auch die weiteren neun nominierten Startups haben spannende Geschäftsideen und wollen mit ihren innovativen Cybersicherheitslösungen heute und in Zukunft die Welt sicherer machen. Auf unserem YouTube-Kanal sind ihre Video-Pitches zusammengestellt.
Die Aufzeichnung des Pitch-Events ist auf der Webseite der it-sa abrufbar (Login bzw. Registrierung erforderlich).
Die offizielle Preisübergabe findet am 27. Oktober 2022 live auf der it-sa Expo&Congress 2022 im Rahmen einer Podiumsdiskussion statt. Gründer*innen, Corporates und Forschungsvertreter*innen diskutieren über die wichtigen Trends und Ent­wicklungen in Security und Privacy. Analog zum Live-Event werden die Preisübergabe und die Paneldiskussion auch gestreamt. Die Anmeldung erfolgt über die it-sa.
show all news