ATHENE researchers take 2nd place at the Deutsche IT-Sicherheitspreis 2022
Great success for ATHENE scientist Prof. Christoph Busch and his team from Darmstadt University of Applied Sciences: The biometrics specialists were awarded 2nd place for their "Morphing Attack Detection" software at the 9. Deutschen IT-Sicherheitspreis. The prize is endowed with 40,000 EUR.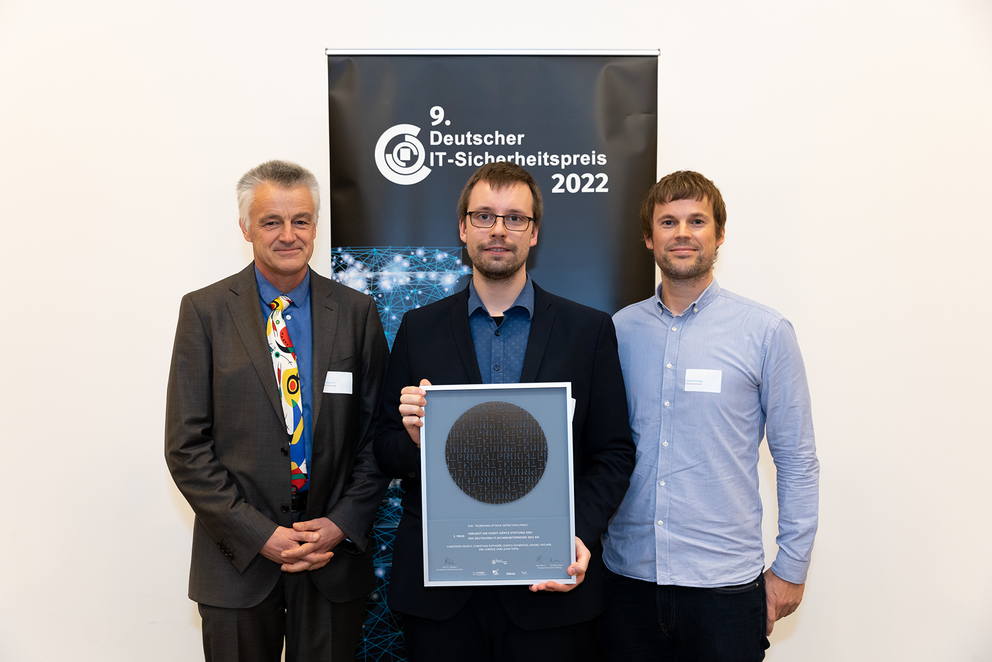 © HGI/Michael Schwettmann | Drei aus dem Gewinnerteam (v.l.n.r.): Prof. Dr. Christoph Busch, Daniel Fischer, Prof. Dr. Christian Rathgeb.
Further information in German.
Das Forscherteam beschäftigt sich mit verlässlichen Methoden zur Erkennung von Morphing-Angriffen. Diese werden immer stärker von Kriminellen genutzt, um Pässe als Dokument zur Identifikationskontrolle zu manipulieren: Sie morphen ein Bild, um damit einen Pass zu beantragen, mit dem dann mehrere Personen unter einer Identität reisen können. In der automatisierten Grenzkontrolle mit Gesichtserkennung, wie sie beispielsweise an Flughäfen genutzt wird, fallen diese Morph-Pässe häufig nicht auf. Die von den Experten entwickelte "Morphing Attack Detection"-Software erkennt mit hoher Genauigkeit, dass ein Foto durch Morphing-Software manipuliert wurde.
Der mit 100.000 EUR dotierte erste Preis ging an die Wissenschaftler David Knichel, Amir Moradi, Nicolai Müller und Pascal Sasdrich vom Horst-Görtz-Institut für IT-Sicherheit (HGI) der Ruhr-Universität Bochum (RUB) für ihr Konzept "Einfach sicher: Ein Werkzeugkasten zur automatisierten Erstellung geschützter Hardware".
Das Konzept "Carbyne Stack – Eine Open Source Secure Multiparty Computation Cloud Plattform" von Sven Trieflinger, Sebastian Becker, Vadim Raskin, Volker Suschke, Vincent Rieder, Jared Weinfurtner und Hanna Modica konnte sich über 20.000 Euro für den dritten Platz freuen.
Für die Auszeichnung wurden insgesamt 54 Konzepte von Forschenden und IT-Sicherheits-Fachleuten aus ganz Deutschland eingereicht. Die zehn Finalisten stellten ihre Konzepte auf der Veranstaltung in einer Poster-Session vor, bevor die Jury die Gewinner bekannt gab.
Prof. Christoph Busch ist Mitglied im ATHENE-Board und leitet den ATHENE-Forschungsbereich Next Generation Biometic Systems (NGBS).
Presseinformation der Hochschule Darmstadt auf idw-online.
Über den Deutschen IT-Sicherheitspreis.
show all news