ATHENE scientist is invited as an expert to the public hearing of the Defense Committee
Thomas Reinhold, research associate in the PEASEC research group led by ATHENE researcher Prof. Christian Reuter, was invited as an expert to a public hearing of the Defence Committee in the German Bundestag. The hearing dealt with "Constitutional and international law issues in the military cyber and information space with special consideration of the parliamentary prerogative, the imputability of cyber attacks and a possible adaptation of national and international norms".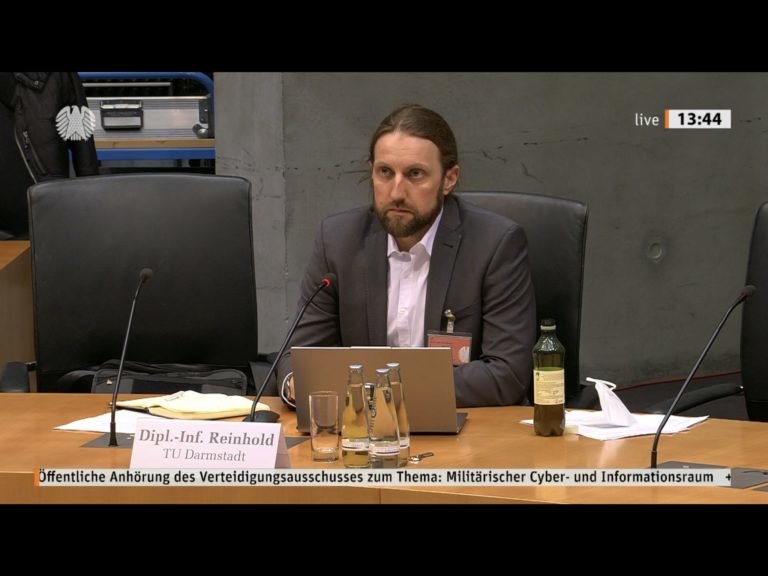 Thomas Reinhold pointed out in the hearing that almost every intelligence or military activity against or in an IT system requires measures to circumvent protective devices or to eliminate one's own digital footprints. From the perspective of IT security, this corresponds to a manipulation of the affected system.
This also applies to cyber operations to obtain information. A purely passive reconnaissance is therefore hardly possible from a technical point of view. The Scientific Services of the Bundestag had pointed out in an expert opinion from 2018 that the prohibition of acts disturbing the peace according to Article 26 of the Basic Law can also refer to cyber activities of state institutions.
A detailed report on the hearing and individual statements by the experts can be found here.
Update: Link to the public hearing
Information about the "Science and Technology for Peace and Security" research group (PEASEC)
show all news